*Edit: I've extended the deadline for entries through Sunday, March 21st at 9 p.m. Enter now!*
I had a great evening tonight- I went to a bingo event at
Lolita Bar
hosted by the two funniest people on the internet, Keith and Chemda from the internet radio show
Keith and the Girl
. I have been a huge fan of their show for years- I was listening back when they did show #100, and now they're past 1100! They do 5 hilarious shows a week, that I put on my iPod and laugh along to on the bus. Laugh at something everyone can hear, and the world laughs with you. Laugh at something only you can hear, and you'll get extra breathing room on the bus.
Tonight's bingo event was extra-special because Keith and Chemda are celebrating the release of their relationship book,
What Do We Do Now? Keith and the Girl's Smart Answers to Your Stupid Relationship Questions.
My pre-ordered copy arrived earlier this week, and it is hilaaaaaarious and insightful. The questions are answered in a conversational style, with little icons that let you know if you're hearing from Keith or Chemda. The chapters are organized by topic- "Money", "Sex and Kink", "Household"- there's even a chapter on "Marriage"! You definitely want to hear their answers to tough questions like, "Should I take out a loan to buy my girlfriend the engagement ring of her dreams?", "Does a prenup mean we don't love each other?" and "Should I push my live-in boyfriend into proposing?"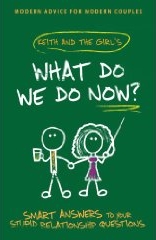 I am so pleased that I can give away this book as my first-ever Kate the Bride giveaway! You can enter from right now until Saturday, March 20th, at 12 noon ET. You can get up to 3 entries, by doing the following three things:
1. Go to
KeithAndTheGirl.com/book
, read the chapter of the book posted on the website, and leave me a comment with your favorite question.
2. Tweet about the giveaway including a link (http://tinyurl.com/yzvrnkr
),
and leave a comment below with a link to your tweet.
3. Blog about the giveaway including a link
, and leave a comment below with a link to your post.
That's it! The winner will get one copy of the (soon to be New York Times Bestseller, I can just feel it in my bones) book, and some cute stickers, too. Get to it!
*Disclaimers: You must comment directly on my
KateTheBride.blogpost.com entry
to win- comments left on TheKnot.com will not be counted. Yes, you can leave all 3 entries in one comment. Winner will be chosen at random. There will only be one winner. If you win but I can't figure out how to contact you or you never get back to me with your mailing address, I will chose another winner. Will only ship to a US address (including APOs/FPOs, because military people deserve it). If you try to cheat me, you will be subject to Keith's Justice, and let me tell you, it ain't pretty.